California State Government Teams Complete Racial Equity Learning Program
Highlights
Supported in part by PHI, CCORE is a community of California State government entities working together since 2018, to learn about, plan for, and implement activities that embed racial equity approaches into institutional culture, policies, and practices.
25 California state departments, offices, agencies, commissions and conservancies completed the 15-month learning cohort
Written by Lianne Dillon and originally published by Race Forward/GARE
Launched in 2018, the Capitol Collaborative on Race and Equity (CCORE) represents a historic decision by the State of California to begin the work of a whole-of-government approach to racial equity. Embedding racial equity into institutional culture, policies, and practices, this work is laying a foundation for ensuring that race will no longer be a factor in determining life outcomes or well-being for communities of color in California.
The groundbreaking work of CCORE reached a milestone on October 27, 2021. CCORE celebrated the culmination of an 18-session program, with 25 California state departments, offices, agencies, commissions, and conservancies completing a 15-month learning cohort to build their institutional capacity to advance racial equity.
CCORE is a program of the Public Health Institute (PHI) and the Government Alliance on Race and Equity (GARE) housed at Race Forward, offered in partnership with the California Strategic Growth Council.
At the commencement event, State staff and leaders showcased their key learnings and progress from the program, including these highlights:
The Department of Aging shared their vision that "all Californians should be able to live long healthy lives" and highlighted their commitment to elevating the voices of those who historically have not been heard. The team shared metrics of health inequities that demonstrate the impact of inequitable policies and committed to meet the needs of those historically undervalued.
The Mental Health Services Oversight and Accountability Commission made a video highlighting racial inequities in mental health and describing the training, planning, research, and engagement their Justice, Equity, Diversity, and Inclusion (JEDI) Trailblazers team completed during the cohort. The results statement they are pursuing is "All people in California feel a sense of well-being and experience a valued connection to community."
The Financial Information System for California (Fi$Cal) shared team member testimonies including: "I learned to look at gender, race, and zip code when analyzing data." "Nothing about us without us – I learned we must engage the people impacted." and "I learned that the root cause analysis is important – to use "why" to drill down the layers."
The California State Transportation Agency & California Transportation Commission co-presented on the historical context for racial inequities in how transportation impacts and benefits are distributed in California and the resulting impact on inter-generational wealth. Focusing on digital transportation, the results statement they are pursuing is: "All Californians have broadband and/or high-speed internet service." Looking ahead, the teams plan to identify equity leads and develop Racial Equity Action Plans for their associated agencies and departments.
The Governor's Office of Planning & Research and California Strategic Growth Council shared video remarks from their directors and their result statement: "All people in California live in healthy, thriving, and resilient communities regardless of race." The teams described their use of communication tools and approaches learned through CCORE to inform programmatic outreach and webpage updates.
The Department of Food & Agriculture presented their vision "All Californians have the right to healthy and fresh food" and desired result, "All producers in California grow safe and nutritious food for Californians to be healthy and food secure." CDFA is focusing their Racial Equity Action Plan on 4 pillars: 1) Community Outreach and Engagement, 2) Programs and Policies, 3) Training and Education, and 4) Hiring and workforce equity.
The California Housing Finance Agency & Cannabis Control Appeal Panel team shared the results statement "All people in California experience safe and stable housing in an inclusive community," and presented on the ramifications of the historic exclusion of Black and other people of color from wealth-building home-ownership. As next steps, they are committed to integrating racial equity organizationally, disseminating their Racial Equity Action Plan to community partners and collaborating on this effort with other state entities and HFA's across the nation.
The Public Utility Commission hosted a gameshow-themed skit to highlight their Racial Equity Action Plan's approach, spanning all industry areas, and including activities related to internal training, centering diverse perspectives in recruitment and retention, and fostering a culture of equity and justice.
The Department of Conservation presented takeaways including "We must acknowledge that our current way of doing things could be maintaining and/or reinforcing structural racism" and the establishment of an Equal Employment Opportunity Office and a Racial Equity Action Plan on recruitment, hiring, and outreach. Looking to the future, they are working to create an external-facing Racial Equity Action Plan focused on community engagement.
The Department of Forestry & Fire Protection, the Foster Inclusion with Racial Equity (FIRE) Team, spoke about key historical moments from the organization's creation and shared data on organizational race and gender demographics. The team is focused on a pilot project that includes reviewing recruitment images and working toward alignment with the demographics of California .
The Department of Water Resources, team Wave of Hope, wrote a song identifying bureaucratic barriers to racial equity. Their Racial Equity Action Plan will result in 1) a workforce reflective of the people of California, 2) improved engagement and partnerships with communities most impacted by structural racism, and 3) expanded understanding and formalization of racial equity throughout the department.
The Department of Fish & Wildlife made a film highlighting key actions they have been advancing, including: implementing a grassroots approach to normalizing conversations about race throughout the agency; developing an intranet page to share information on racial equity with the whole department; creating an online Interview Panel Member Volunteer Listing from across the organization that can help support an inclusive hiring process; and working with their legal team to develop policies in support of racial equity.
The California Conservation Corps also shared a film stating their organizational commitment to racial equity, appreciation to their partners and staff that have engaged in CCORE, and ending with powerful testimony from Corps members from across the state about the value of their participation and its impact on their lives.
The Tahoe Conservancy team shared reflections from the CCORE curriculum and their weekly team meetings, including personal testimony and curated photos to demonstrate how they collectively and individually are advancing racial equity.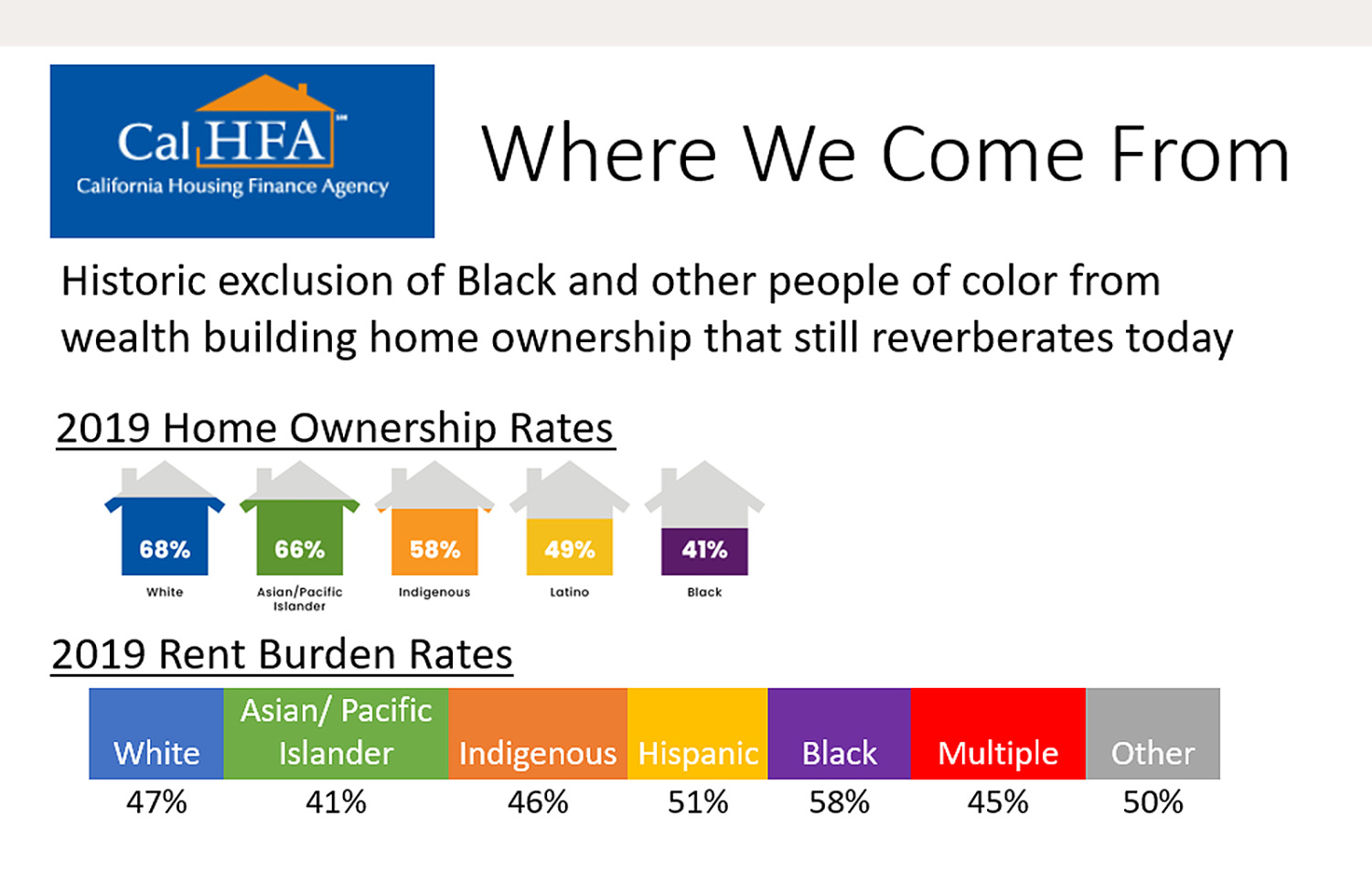 Over 200 participants registered for commencement which included an opening address by Gordon Goodwin, Director, Government Alliance on Race and Equity, Race Forward. In his address Gordon highlighted the importance of learning to create change, the value of the curriculum arc in providing a shared understanding of the language of racial equity, the necessity of a team and network of colleagues committed to this work, and the benefits we can all reap when we build resolve and reserves to bring more people into our values of justice and democracy.
The celebration wrapped up with a conversation between Gordon Goodwin and Dennis Chin, Vice President, Narrative, Arts, and Culture, Race Forward on The Role of Narrative in Advancing Racial Equity in Politically Challenging Environments. Gordon and Dennis offered examples from across the nation, emphasizing the necessity of sharing outcomes, examples, and demonstrable data on how we all benefit from centering racial equity.  From Colorado to Illinois and across sectors (e.g., water, libraries, transportation) we learned that when we improve outcomes for those experiencing the most hardship, others benefit too.
Participants were left with this as their charge: To make progress is to demonstrate that we are more than theory, that people have experienced the benefits of racial equity.
Because this work is long-term by nature, teams were encouraged to cement their Racial Equity Action Plans using GARE's Racial Equity Tool and establish ongoing systems to communicate out progress both within their organizations and publicly to stakeholders.
Plans for CCORE 2022 are being formulated by PHI and Race Forward, along with other partners, as the organizations debrief progress, outcomes, and needs identified in 2021. CCORE is offered with support from The California Endowment and The California Wellness Foundation.
For more information or questions, please email CCORE@phi.org.
This article was first published on the the Race Forward/GARE blog.
Work With Us
You change the world. We do the rest. Explore fiscal sponsorship at PHI.
Support Us
Together, we can accelerate our response to public health's most critical issues.
Find Employment
Begin your career at the Public Health Institute.