Top 10 public health and social justice media bites of 2018
December 14, 2018 | Heather Gehlert, Berkeley Media Studies Group | Originally published on BMSG's blog
Research has found that reading too much news can fuel stress, anxiety, and depression. It can make us feel tired and cause us to lose sleep. Studies even suggest that viewing traumatic images can trigger PTSD-like symptoms. Given the amount of outrageous and emotionally charged news this year — and the breakneck speed at which it has been reported — it should be no surprise that 2018 has left many of us on edge.
But as I reflect on some of the major issues and events that dominated the news cycle over the past 12 months — mass shootings, data privacy scandals, ongoing sexual harassment and assault — I realize there is an upside. If you know what to look for and where to look, the news can be more than just a source of frustration; it can also be one of inspiration, comfort, and courage.
At BMSG, it's our job to monitor and study the news. When I scan headlines each morning, although I still have plenty of "you've got to be kidding!" moments or "nothing should shock me anymore" reactions, I also often find myself thinking, "What a fresh perspective!" or wondering, "How can I get involved?" Sometimes it's not immediately obvious, but the news is peppered with novel approaches to well-worn subjects and new solutions to old problems. They come from advocates, young people, parents, physicians — a range of individuals who all have one thing in common: They are using the power of their voices — and the power of the media — to create change.
Each year at BMSG, we collect and share memorable media bites that help us to better imagine the type of world we want to live in, set goals for getting there, and motivate us to act. Here are our favorites from 2018, organized by topic:
equity
"It's a recipe for a sick society, literally. Without preventative care, sick kids become sick adults."
-Hospital social worker Rebecca Ribiero, speaking about threats to CHIP and the real-life consequences of not having medical coverage for children. Appeared Jan. 11, 2018 in The New York Times.
Why we like it: Several bodies of science show that what happens to us during our childhood years stays with us, often with harmful health consequences throughout our lives. Yet, that science can be difficult to distill for broader audiences. Here, the concept comes through loud and clear without any jargon. Additionally, the recipe analogy offers a powerful way to show that these outcomes are expected (because they were baked in from the beginning) and changeable (because we can remake the recipe).
---

"Men get attacked for their opinions, and women get attacked because they have opinions."
-Liz Plank, a senior producer, correspondent, and host at Vox. Appeared July 3, 2018 in Forbes.
Why we like it: At BMSG, we often tell advocates that who speaks matters as much as what's said. Although we typically say that to help people figure out which messengers will resonate the most with their audience, this quote illustrates that sexism can have a chilling effect on who feels safe enough to speak out in the first place. Women in journalism are at a higher risk of online abuse and even threats of physical violence compared to their male colleagues. This media bite highlights that double standard, which is dangerous both for women's emotional and physical safety and for our careers, as we are already underrepresented in the news media.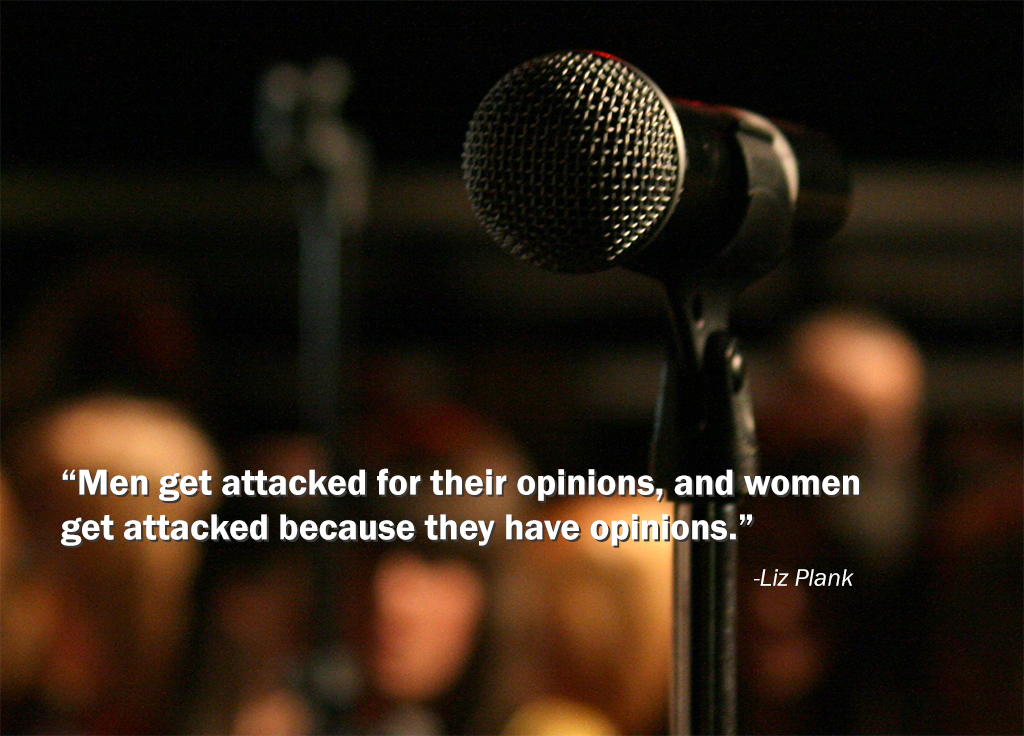 ---
Violence
"Do you have any idea how many bullets I pull out of dead bodies weekly? This isn't just my lane. It's my f-ing highway."
-Dr. Julie Melinek, a pathologist, tweeting in response to the NRA saying, "Someone should tell those self-important anti-gun doctors to stay in their lane." Appeared November 13, 2018 in the San Francisco Chronicle.
Why we like it: This bold statement went viral following the National Rifle Association's attempt to silence doctors in the conversation about gun violence prevention. Using hashtags like #ThisIsMyLane and #ThisIsOurLane, it, along with a chorus of other tweets and images from medical professionals, brings the firsthand perspectives of emergency room doctors and nurses into prevention efforts in a very public way, adding credibility and urgency to the movement to end gun violence.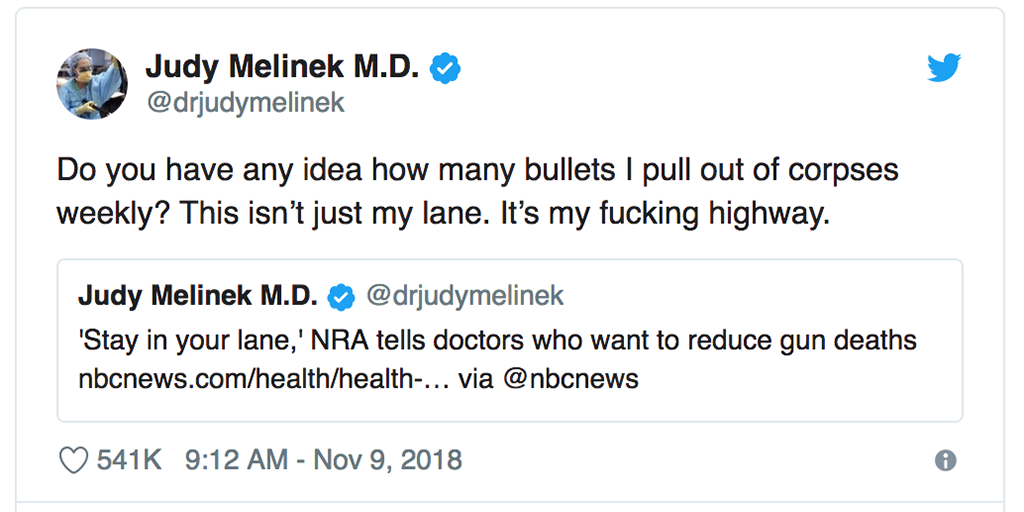 ---

"We are survivors not only of gun violence, but of silence. We are survivors of the erratic productions of poverty. But not only that. We are the survivors of unjust policies and practices upheld by our Senate."
-D'Angelo McDade, a high-school senior and activist from Chicago. Appeared March 27, 2018 in The Nation.
Why we like it: Pulling back the lens to reveal the connections among root causes, legislation, and gun violence can be challenging even for the most seasoned spokespeople. Leading with a powerful juxtaposition between violence and silence, this youth advocate pulls it off beautifully.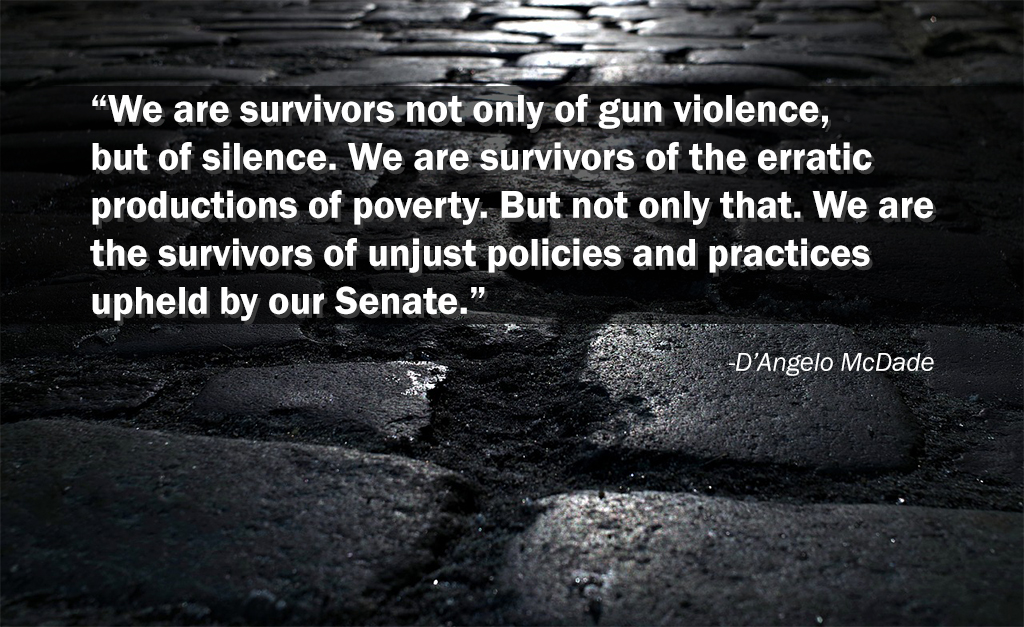 ---

"People say it's too early to talk about [gun violence]. If you ask me, it's way too late."
-Cameron Kasky, a high school student at Stoneman Douglas High in Parkland, Florida. Appeared Feb. 16, 2018 in The New York Times.
Why we like it: Through a simple shift in perspective, this young activist was able to counter the "it's too soon" narrative that often follows mass shootings in a way that no amount of facts or data ever could.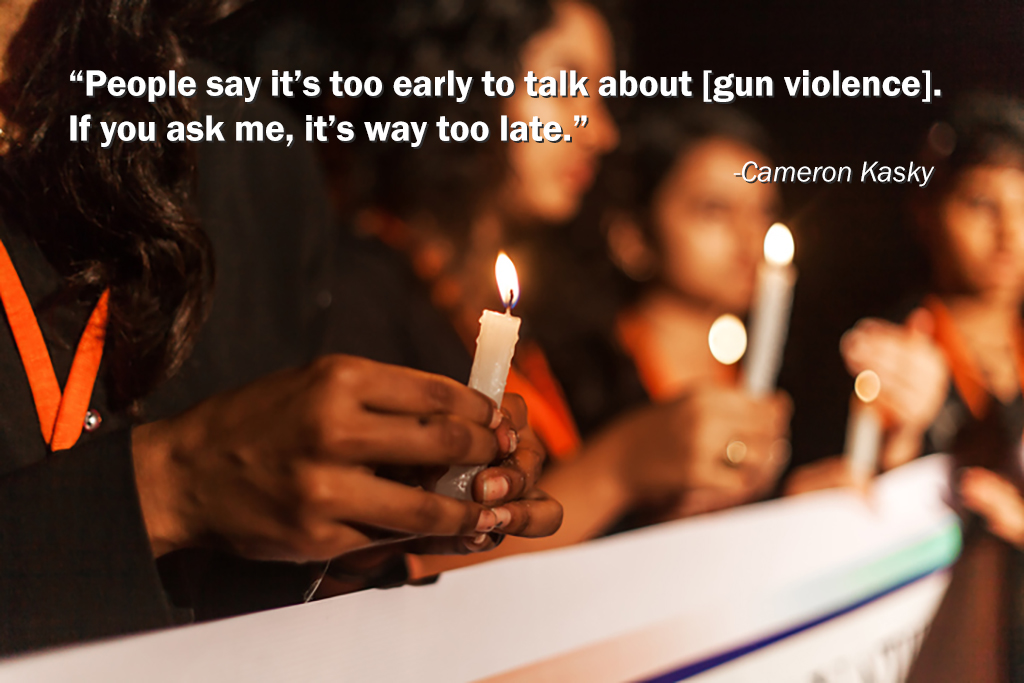 ---

"The long-range trauma police brutality causes can be as deadly as a bullet."
-Christen A. Smith, associate professor of African and African diaspora studies and anthropology at the University of Texas at Austin. Appeared Jan. 5, 2018 in PBS Newshour.
Why we like it: It is often easier to demonstrate the immediate aftermath of violence than its long-term effects, but this writer does so with ease. She explains, "When we think of police lethality, we typically consider the immediate body count: The people that die from bullets and baton blows. The death toll gives the impression that black men are the disproportionate victims of police killings. But these numbers do not reveal the slow death that Black women experience." This media bite is particularly relevant following the American Public Health Association's recent vote to recognize police violence as a public health issue.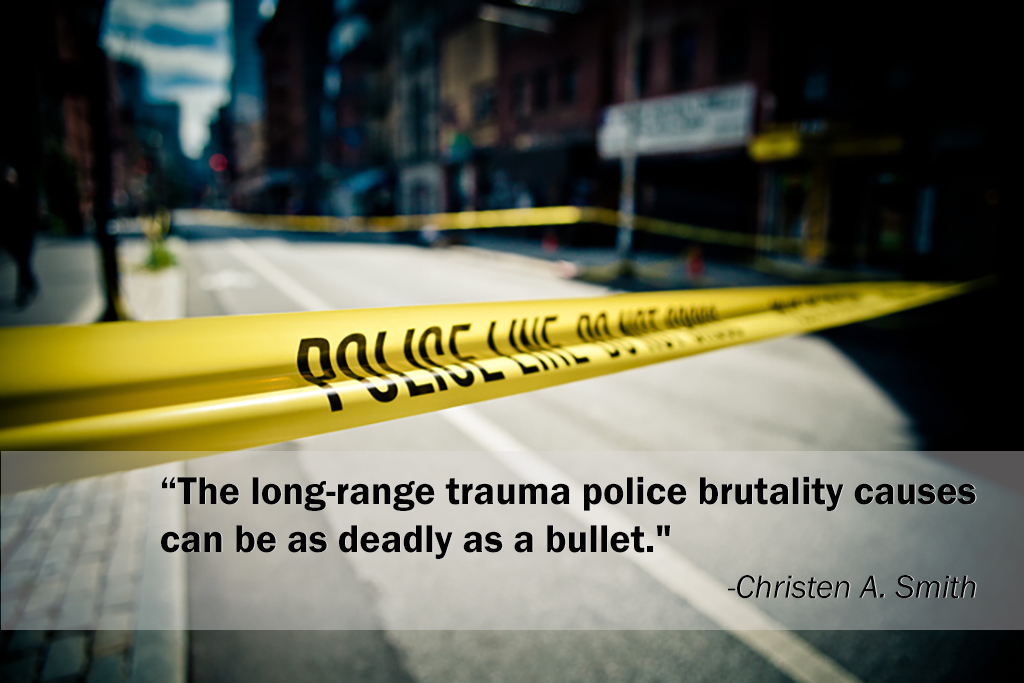 ---
Environments and health
"Breathing clean air should not be a privilege for the few, but a right for all."
-California Attorney General Xavier Becerra. Appeared Jan. 11, 2018 in Courthouse News.
Why we like it: This strong, straightforward quote appeals to the value of fairness and elevates the often overlooked issue of air pollution in West Oakland, where communities of color are disproportionately exposed.
---
Media
"When [marketers] speak in front of Congress, they talk about respecting people's privacy. When they speak among themselves, they talk about how they're dedicated to completely undermining our privacy."
-Jeff Chester, of the Center for Digital Democracy. Appeared Aug. 21, 2018 in the Los Angeles Times.
Why we like it: Despite how integrated into our lives digital technology has become, marketers have shown a poor ability in recent years to protect consumers' privacy. To hear them tell it, they are trying their best, but Jeff Chester, one of the country's leading privacy experts, cuts through their babble and exposes their true intent. It's no surprise, then, that the media seek Chester's expertise regularly, as he is skilled at making issues about privacy more visible and understandable to the public. As the reporter of this article noted, "I couldn't make heads or tails out of much of what the marketing association's report had to say. So I asked Chester to translate."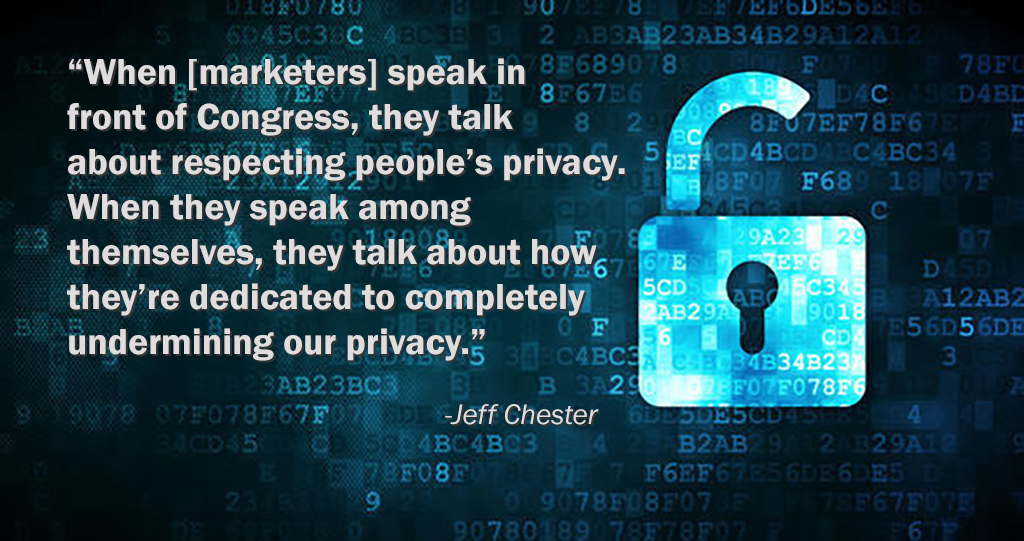 ---
Democracy
"Cancer is fought in the halls of government, not just in the halls of the hospital."
-Stephanie Winn, of the American Cancer Society. Appeared August 16, 2018 in CBS, Sacramento.
Why we like it: People often think of health as an individual, medical matter. This quote moves the conversation upstream and reminds us that health is political. In many ways, it is the outcome of government decisions that can help or harm entire populations. If readers understand that, it will be easier for them to see the need for policy solutions to a range of health-related issues.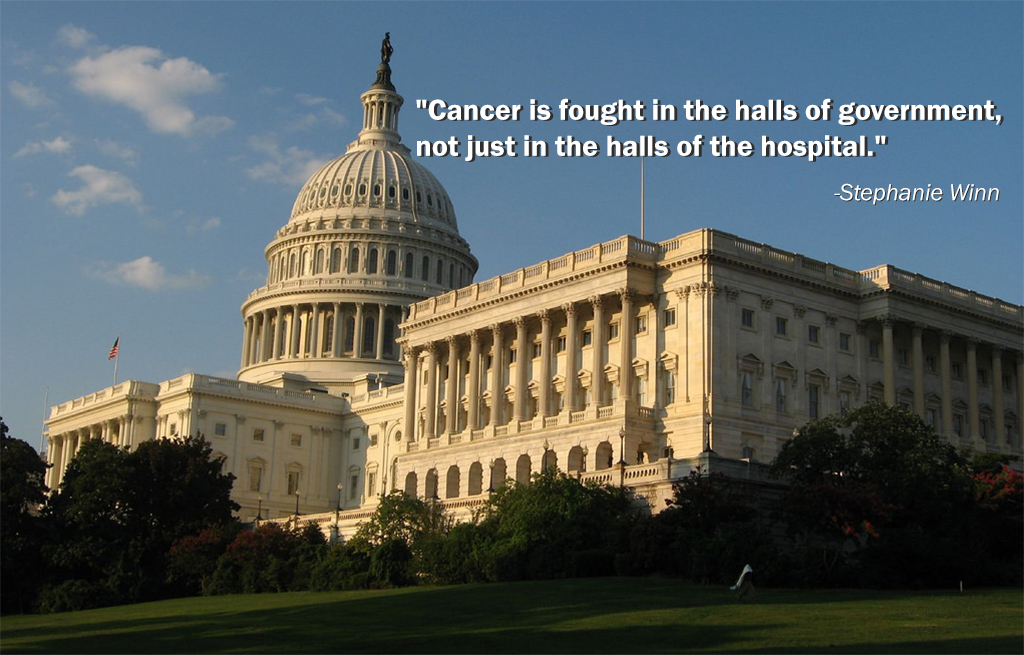 ---

"One of the lessons of Flint is that science and public health won't save us without a functioning democracy. Being awake is not enough. We have to be loud."
-Mona Hanna-Attisha. Appeared June 9, 2018 in The New York Times.
Why we like it: One of our taglines at BMSG is borrowed from Dr. Seuss: "Make every Who holler! Make every Who shout!" Its essence is reflected in this media bite, which speaks to the power of our collective voices and underscores why we must use those voices to hold our institutions and decision-makers to account.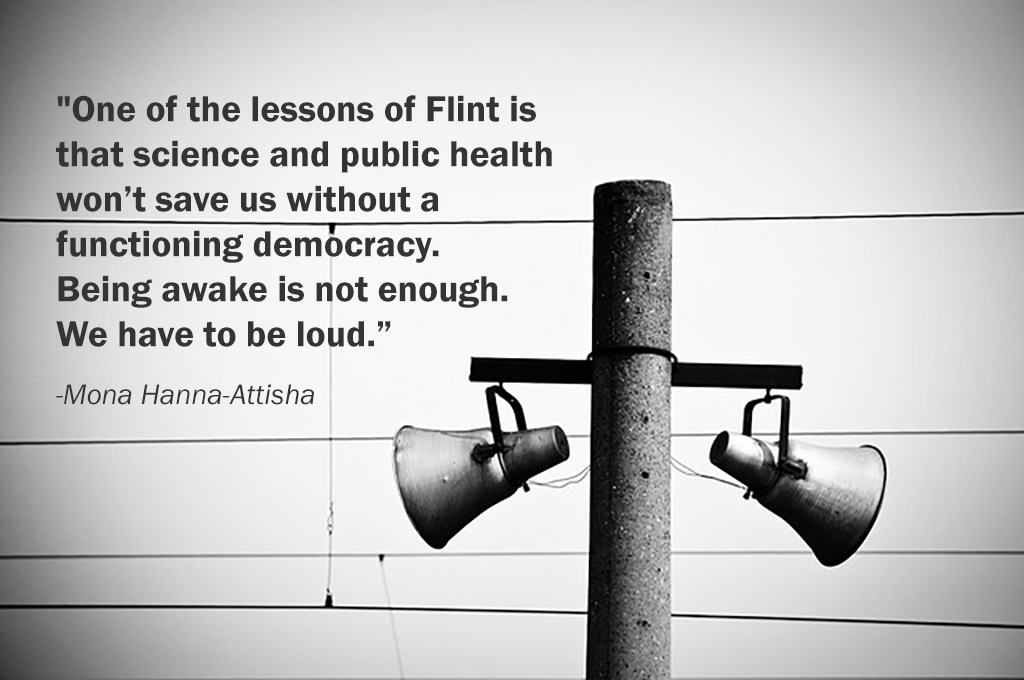 ---
HONORABLE MENTION
"This is not just about any individual abuser. It's about wider systems in our workplaces and broader cultural norms that allow this type of behavior to continue for years and, in some cases, decades."
-BMSG's Heather Gehlert, a former managing editor for AlterNet. Appeared Jan. 5, 2018 in The Intercept.
Why we like it: This quote highlights the structures and institutions that perpetuate sexual harassment and abuse and shifts the focus away from solely the individual. When I agreed to be interviewed for this article as part of this year's #MeToo coverage, my goal was not only to hold my former boss accountable but also to help people to understand that systems change is needed to prevent abuse from happening in the first place. We've included it here as an example of how we at BMSG strive to practice what we preach.
What were some of your favorite media bites of 2018? Let us know at info@bmsg.org, @BMSG, or on Facebook.