FACES for the Future Coalition
The FACES for the Future Coalition delivers the FACES program model to communities seeking to prepare high school students for entry into the health professions by developing their own pipeline programs. FACES incorporates best practices in youth development, stakeholder engagement, and workforce development strategies.
Our Impact
See all FACES for the Future Coalition Impacts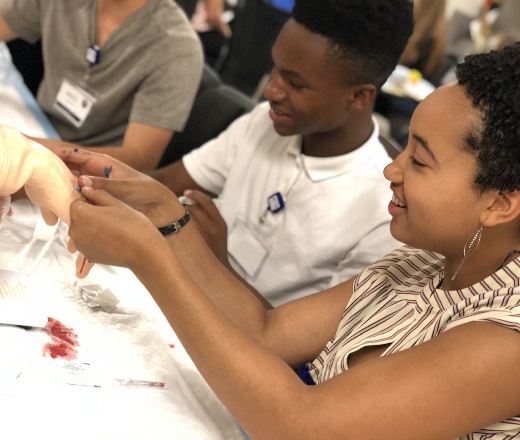 4.5K

youth served by FACES programs nationally since the program's launch

900

youth served every year by FACES programs

90%+

FACES students pursue post-secondary educational pathways
Projects
Active Projects
FACES Summer Medical Academy

The FACES Summer Medical Academy is a tuition-based, intensive summer experience designed to expose high school students to the field and practice of medicine. The goal of the program is to offer youth a glimpse into the array of advanced educational strategies and tools that comprise current medical training, while familiarizing young people with critical concepts that promote an understanding of culturally responsive, compassionate and patient-centered health care practice.

FACES for the Future Program Support

The purpose of the FACES for the Future Coalition is: 1) to develop, standardize and consistently evaluate the FACES for the Future program model; 2) to provide capacity-building support and technical assistance to existing FACES programs throughout the nation in order to ensure program stability and share best practices; and 3) to mindfully and strategically replicate the FACES for the Future program model in other communities in need.

FACES for the Future San Francisco - Phillip & Sala Burton Academic High School

In partnership with the Bayview YMCA and Phillip & Sala Burton Academic High School, FACES for the Future Coalition connects students enrolled in the school's Academy of Health Sciences to work-based learning, academic enrichment, wellness support, and leadership development opportunities. In order to fulfill their commitment to creating equitable access to the health professions pathway, there is no minimum GPA requirement for participation.

FACES for the Future - John O'Connell High School

The FACES for the Future Coalition oversees the implementation of a FACES for the Future program at John O'Connell High School in San Francisco. In partnership with the SFUSD and the SFDPH, the program introduces students to career pathways into healthcare, public health, and behavioral health while supporting them with academic interventions, the coordination of wellness services, referrals to outside agencies when needed, and youth leadership development opportunities.

FACES for the Future Coalition: A Mentorship Model to Advance Collaborative Pipelines for Student Success

FACES designs programs that support career development for disadvantaged youth in underserved communities. FACES programs provide comprehensive "wrap-around" services, including health careers training, academic enrichment, psychosocial interventions, and youth leadership development. FACES is scaling its program replication strategy to a national level, continues to grow its state-wide replication in California, and increases outreach efforts to disseminate the programs' impact.
Completed Projects
FACES Global Health Pathway

In partnership with the Global Health Fellows Program-II and the USAID, FACES created an introductory global health curriculum for high school students, and implemented an annual Global Health Youth Summit in Washington DC that provided FACES students with opportunities for mentorship with global health professionals, training in advocacy and leadership, and enhanced opportunities for career exploration in global health.

FACES Coalition, Capacity Building Project with Roosevelt High School

FACES worked with Roosevelt High School's Health Academy in the Boyle Heights neighborhood of Los Angeles, CA by supporting development of curriculum and work-based learning opportunities for Academy students. The overall objective was to support development of meaningful learning opportunities for minority students interested in health careers, to stabilize their pathway to employment, and to support development of a culturally representative health workforce for the community.

Behavioral Health Undergraduate Summit

FACES developed and implemented the Behavioral Health Undergraduate Summit - a summer program that provided undergraduate students with opportunities to gain experience, training and professional development in the behavioral health field. This two-week summer program provided a participation stipend and a combination of workshops, tours, and guest speakers to advance participants toward their career goals in behavioral health.

FACES Behavioral Health Pathways

FACES worked with local school partners and behavioral health agencies in Alameda County to help youth of historically marginalized communities identify pathways to professional careers in behavioral health and provide support for these young people as they worked towards those careers. The curriculum was rooted in a critical understanding of cultural competency which encouraged students to critique and change the field of behavioral health while uplifting their own identities and communities.
Work With Us
You change the world. We do the rest. Explore fiscal sponsorship at PHI.
Support Us
Together, we can accelerate our response to public health's most critical issues.
Find Employment
Begin your career at the Public Health Institute.